This information is for reference only. You should always rely on the manufacturer's instructions when performing switch installations. Manufacturer instructions can change at any time and this website cannot guarantee the accuracy of the information. 
WARNINGS AND CAUTIONS:
TO AVOID FIRE, SHOCK OR DEATH; TURN OFF POWER AT CIRCUIT BREAKER OR FUSE AND TEST THAT POWER IS OFF BEFORE WIRING!

To be installed and/or used in accordance with electrical codes and regulations.

If you are unsure about any part of these instructions, consult an electrician.

Manufacturer smart-switches must be used with compatible devices for multi-location switching.
Solution F – Dual Smart Switch
Uses two smart switches, one as master and one as slave. Only possible with switches and hubs that support device association. Used if you want to mirror two switches on the same (or different) circuits for on/off and dimming. Button-tapping is not mirrored.
Pros: user experience same from all switches including multi-tap and scenes
Cons: costly, can be complex to set up switch associations
| | |
| --- | --- |
| | Brands |
| Switch Part # | Any Z-Wave Plus switch that supports Z-Wave association |
| Add-on Part # | Any Z-Wave Plus device that can be controlled through associations |
Helpful Tools
View the Original Wiring Methods
View the Method-Solution Matrix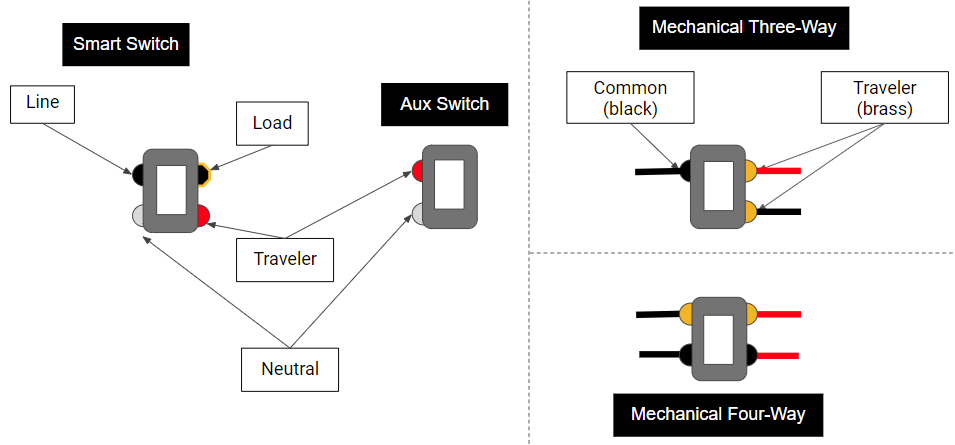 SmartThings
Hubitat
Z-Wave Tweaker to create associations between devices.
Use the Inovelli Z-Wave association Tool (parent and child app)
on/off
Group 2
dimmer
Group 4
scenes
Replicate Automation:
Simple Lighting
WebCore
Etc.
Replicate Automation:
Rule Machine
Simple Lighting
Mirror
Etc.
Solution Notes:
Pay close attention to the line and load wiring. Solution F requires Line power at both switches.
Boxes highlighted 

Orange

 require wiring changes.
Boxes highlighted

Blue

do not require wiring changes unless otherwise noted.
Ensure all dimming and ramp rate settings are identical between the switches. This will ensure consistent dimming and on/off performance.
Use identical lights on a multi-light circuit to ensure both balanced loads and dimming / on-off performance.
DO NOT create bi-directional associations. Example DO NOT

Make switch 1 primary over switch 2, then create a second association where switch 2 is primary over switch 1.

Set the switch that is NOT controlling the load as the SOURCE and the load controlling switch as the DESTINATION.