This information is for reference only. You should always rely on the manufacturer's instructions when performing switch installations. Manufacturer instructions can change at any time and this website cannot guarantee the accuracy of the information. 
WARNINGS AND CAUTIONS:
TO AVOID FIRE, SHOCK OR DEATH; TURN OFF POWER AT CIRCUIT BREAKER OR FUSE AND TEST THAT POWER IS OFF BEFORE WIRING!

To be installed and/or used in accordance with electrical codes and regulations.

If you are unsure about any part of these instructions, consult an electrician.

Manufacturer smart-switches must be used with compatible devices for multi-location switching.
Solution A – Mechanical Toggle – Aux Switch Rewire Required
Uses a normal three-way switch for both add-on switches. You must replace the 4-way switch with a three-way switch in box #2. This is also known as a mechanical three-way or a dumb add-on switch. This requires the mechanical switch to be rewired per the appropriate solution diagram.
Pros: Inexpensive
Cons: No dimming capability, does not provide up-is-on/down-is-off experience, no scenes from dumb add-on switch.
Helpful Tools
View the Original Wiring Methods
View the Method-Solution Matrix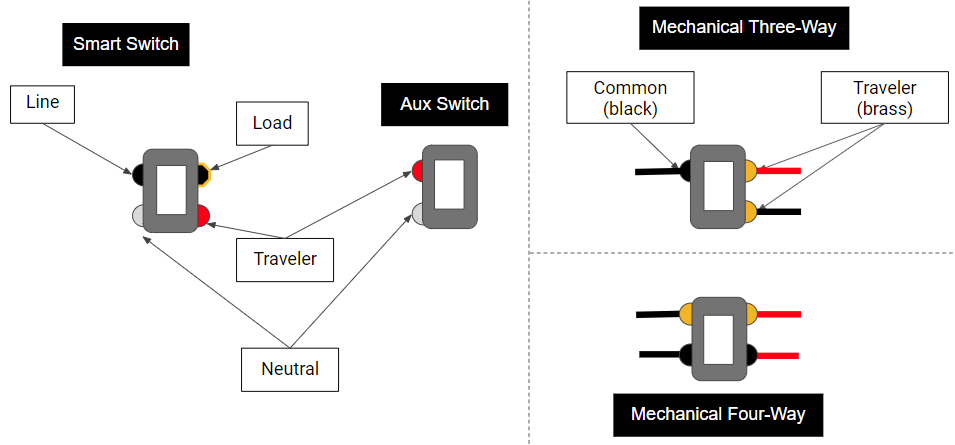 Solution Notes:
Boxes highlighted

Orange

require wiring changes.
Boxes highlighted 

Blue

 do not require wiring changes unless otherwise noted.