Below is a list of Button Controllers that can be used for Scenes and Blinds.
 Aeotec NanoMote Quad Z-Wave Plus

Four Buttons – 8 Commands (4 press/4 hold)

 ~ $45
NOT Z-Wave – but a great option

Lutron 5-Button with Raise/Lower Pico Remote for Caseta Wireless Smart Lighting Dimmer Switch, PJ2-3BRL-WH-L01R, White

* Requires a Lutron Smart Bridge Pro when used with SmartThings & Hubitat (one bridge can handle many remotes)

🙂 This is my personal favorite!

 ~ $15
Button Controllers for Blinds
Map the button press and/or hold events to various positions on your shades and blinds. For example, the bottom button can be full closed, and the top button can be full open. Then you can map the buttons in the middle to various open percentages.
It's a good idea to pick a button that your family will find simple to use and that can be accessed from a logical/convenient location. If you plan to mount on the wall, you'll want to think through the location and how the button will fit in with the aesthetics of the room.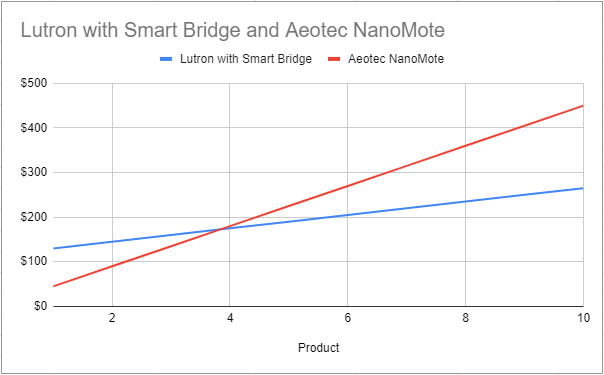 When comparing the Lutron Caseta Pico remote option to other brands, you need to account for the one-time purchase of the Lutron Smart Bridge Pro (SmartThings, Hubitat, etc.), which is around $120. The Pico remote cost is about $15, so for your first button, it comes in at a whopping $135. When compared to a $45 button controller, you break even at 4 remotes. As shown here, the savings kicks in dramatically after that.